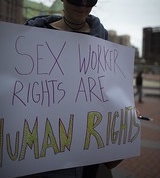 Sex Work and Hurricanes
For the second episode of Storm Stories, we're diving deep into the transactional sex industry during and after hurricanes. How does the market for transactional sex change when natural disasters hit, and how do sex workers deal with these changes? We talk to Katie, who tells us about the days leading up to and following Hurricane Florence, and Rebecca, executive director of the nonprofit Five14 Revolution.
Support the show (https://shoresides.org/support/).
Want to Help:
Donate –

To

The Good Shepherd Center

to fund housing assistance programs.

Advocate – Call NC Senators: Richard Burr 202-224-3154, and Thom Tillis 704-509-9087 tell them to advocate for H.R. 2721 The Pathways out of Poverty Act, that would expand funding for temporary assistance programs.
Need Help:
Shelter –

For temporary shelter call The Good Shepherd Center

910-763-4424.

Financial Assistance – For help with Financial Assistance call Lloyd Stiles from Coastal Community Action at 252-342-4831.
Other Resources – Consult this list. It provides a guide for general resources as well as resources specific to Craven County.