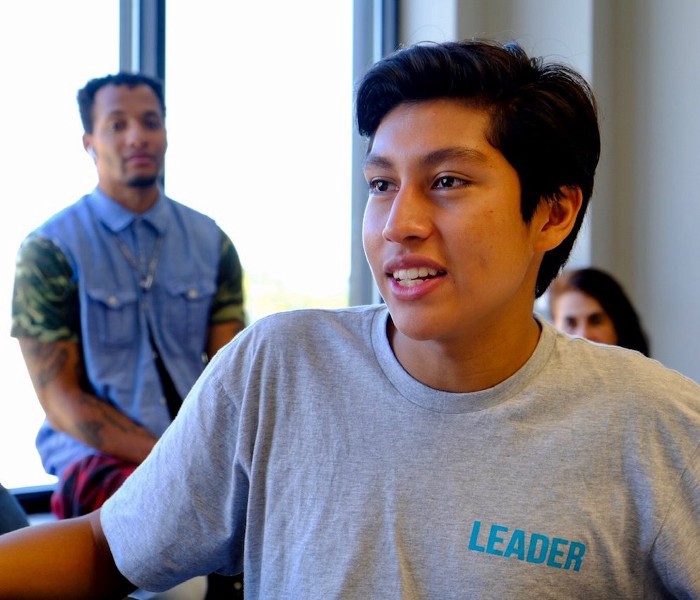 by Jonny Morales
It starts as a tightness in your chest. Like there's pressure on you, and it's harder to breathe. You're wheezing. You're fighting for air. You've got to remember not to panic. You get your medicine, and hope it helps. If it doesn't, then you might have to go to the emergency room. It could happen any time of day or night.
That's what asthma feels like. For me, anyway. I know how hard it can be to have problems breathing.
Most of us take it for granted that we'll be able to breathe easily.
Now with Covid-19, there's a new respiratory disease that a lot more people will have to deal with. I'm sad about that.
I'm 18 years old now, and in my senior year of high school. I've had asthma since as far back as I can remember. My first time being hospitalized for it was in first grade. I just remember the intensity of it all. The doctors and nurses in their uniforms. People around the bed praying for me.
After that first time, I'd have to go to the hospital once every year or two. In 8th grade, I had to go to the ER again for an asthma attack. In the ambulance, the EMT had to put an IV needle in my arm. He asked me about school, and I told him I played football. He asked me more about that, and before I knew it the needle was in. He had distracted me with conversation about football!
It wasn't just him, but all the nurses and doctors and workers at the hospital over the years, everyone has been really nice and helpful. If Covid-19 gets much worse, then hospitals will be overwhelmed and some people won't be able to get the urgent care they need.
And I'm not just talking about me. I'm talking about people all over the country — and all over the world — whether they have asthma or a broken bone or cancer. In a lot of places, they can't get that care to begin with. Now it's going to be even harder.
I'm grateful for all the care I've gotten. So, back in 2016, when I was a freshman in high school, I started volunteering at the hospital. I learned about all the different sections, the ER, surgery, pediatrics, everything.
I got to work with patients, I'd take them to their car at the end of their visit. Volunteers were the last people the patients would see at the hospital, so we'd want to leave them with a good feeling. I'd also help translate for Spanish-speaking patients. My parents are from Mexico; I speak
Spanish at home and English pretty much everywhere else.
My family goes to a big church in Wilmington. I volunteer with the middle-school ministry, and I take photos of services for the church staff to post on social media accounts. After Hurricane Florence, I joined a church group to help out in a neighborhood that was hit hard. Trees were down. Whole houses were flooded. Everything was waterlogged. It was so bad there that I almost forgot that my family needed help, too — we'd been evacuated and our home had to be fixed.
After Hurricane Florence is when I first saw the body of the church come together. And the same thing is happening now with coronavirus. The church canceled services before there was a public order.
Now everything is online. As coronavirus spreads, I think churches will do more and more to help people — whether it's high school students who need a phone call or families who need food.
Produced as part of the Coastal Youth Media project with Shoresides and Narrative Arts.