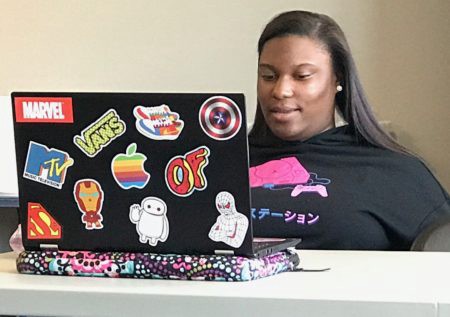 By Shamyia Robinson
I'd never been truly influenced by fear until the morning the hurricane hit.
It was 9 p.m. when my mom, little brother and I settled down on the couches, all of us watching the news about the catastrophic damage and storm surges that would come with Hurricane Florence. The Weather Channel was all that we had been playing on our TV all day.
I was lying on the loveseat with my fuzzy blanket and neck pillow, not comfortable at all, because of the cramped leg space. Every time a hurricane comes the power goes out at my house so I figured I would wait until that happened to walk upstairs and try to fall asleep.
While the wind slowly picked up and the rain still sounded relaxing, I slept peacefully thinking the storm was going to be a breeze like the many hurricanes I had already lived through.
I wasn't scared at all. At least not then.
At six the next morning I awoke to the loud wind gusts brought by Florence, shaking the house like mini earthquakes. Along with this came a minor feeling of queasiness, making me not want to move a muscle in fear that the contents of my stomach would find their way out.
I had experienced something like this plenty of times before, on mornings of volleyball tournaments, and I never knew exactly why. But this time it was 10 times worse. It was not only nausea but also dizziness. It lasted for five days, the same amount of time we didn't have electricity.
I didn't realize this until almost a year later, but that unsettling feeling was caused by anxiety and fear.
My mom, a hairstylist who hears a lot of people's problems, helped me figure this out as we drove to school every morning. I also looked it up on my own through a handful of Google searches.
It wasn't just me not feeling well for no reason. What I learned about myself is that fear can affect me in many different ways, not just the usual rapid heart rate that comes and goes.
For me, I became less patient and didn't want to hang out with friends or family members with whom I normally would spend lots of time.
Instead, I was in my room with colored pencils and my favorite comic coloring book. I would have been on my phone but I had to conserve battery power because I couldn't charge it with the power out.
Even today that fear comes and goes. It may not be as strong, but tornado warnings and more hurricane threats can trigger that same feeling.
Now I am more aware of that feeling that hurricane Florence brought.
But I worry about how I'll handle it if it comes back in full force.
I know I've found relief with my volleyball teammates. We lost most of our season last year because our school was closed and we didn't see each other for two weeks.
How to handle the fear that united us last season is something that Coach Ellen is mixing in with our game strategies this season. 'Don't doubt your resilience' was the subject of one pregame talk.
"Take a deep breath," she tells us all the time.
And I try to do this. But now that I know what fear truly feels like, I have a better understanding of how I can react to it and lessen it.
Produced by Coastal Youth Media project in partnership with Shoresides and the North Carolina Health News. Hear Shecoria Smith read her essay here.
Funding provided in part by North Carolina News Lab.