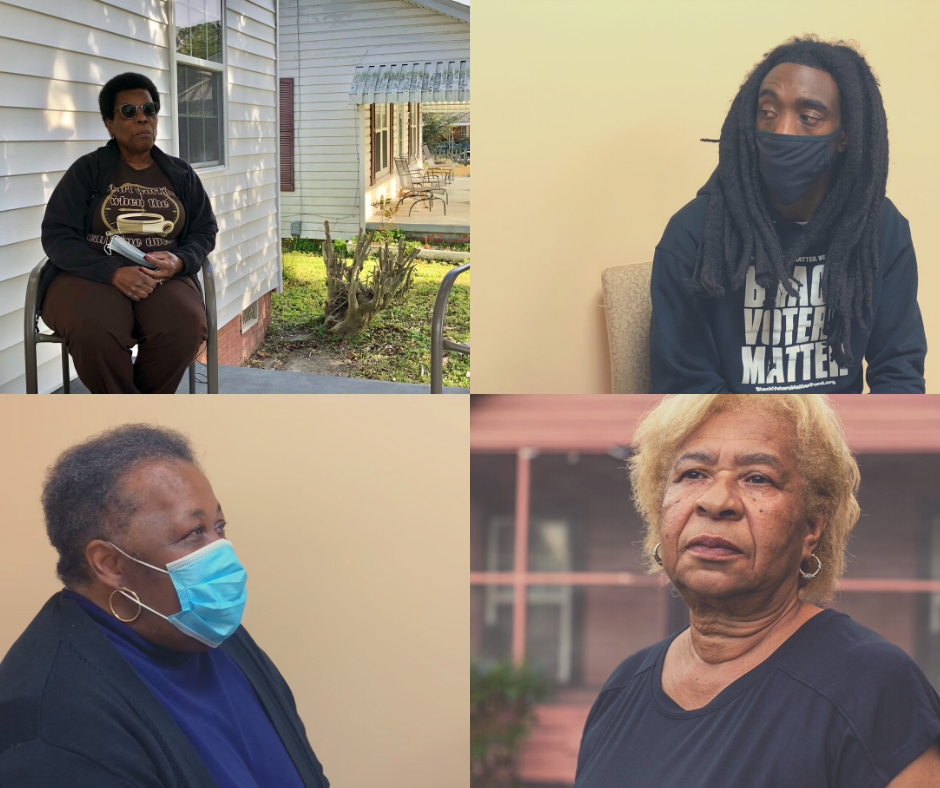 The Communities
"We were just sitting on the porch like normal on a beautiful Saturday. And then we heard this tractor, and then all of a sudden this animal waste was coming everywhere and it was stinking like nothing we had ever experienced," says Elsie Herring of Wallace, North Carolina.
Herring is one of many eastern North Carolinians who have had negative health impacts and financial burdens as a result of nearby concentrated animal feeding operations (CAFO's) over the last several decades. In this episode of CAFO's & Communities, we explore how the hog industry's hazardous waste redistribution has harmed neighboring communities and what they're doing about it.
Produced by Dedan Waciuri, Kayla Guilliams, and Laura Bratton in collaboration with Sherri White-Williamson, Elsie Herring, Jeff Currie, Larry Baldwin, and Naeema Muhammad. Special thanks to Larry Baldwin of Coastal Carolina Riverwatch.
To learn more and get involved, visit North Carolina Environmental Justice Network, North Carolina Conservation Network, and Coastal Carolina Riverwatch's websites.
Music: Pure Water by Medyn, Thoughts by ANBR, Aquarius by Spearfisher. Sounds by Badlands Sound via Artist and YouTube Audio Library. Photos by Laura Bratton. Bottom right photo by Jeremy Lange, taken from ProPublica.
References:
Environmental Working Group, "EXPOSING FIELDS OF FILTH: Locations of Concentrated Animal Feeding Operations in North Caroling by County," EWG and Waterkeeper Alliance,
https://www.ewg.org/interactive-maps/2016_north_carolina_animal_feeding_operations_bycounty.php.
Kravchenko, J., "The Coming Storm 2019: Hog CAFOs, Human Health & Hurricanes in N.C," Duke's Nicholas School of the Environment (2019), https://www.youtube.com/watch?v=xHf22c_uwzc.
Kravchenko et al., "Mortality and Health Outcomes in North Carolina Communities Located in Close Proximity to Hog Concentrated Animal Feeding Operations," North Carolina MedicalJournal, 79 (5):278-288 (2018).
Marks, R., "CESSPOOLS OF SHAME: How Factory Farm Lagoons and Sprayfields ThreatenEnvironmental and Public Health," Natural Resources Defense Council and the Clean WaterNetwork (2001).
Schiffman et al., "Potential Health Effects of Odor From Animal Operations, WastewaterTreatment, and Recycling of Byproducts," Journal of Agromedicine, 7(1): 7-81 (2000); PolicyStatement Adopted by the House of Delegates, North Carolina Council of Churches (2000).
Sobsey, M., McBride Health Conference, UNC Chapel Hill (1990), https://www.youtube.com/watch?v=BoTcCooC7AE.
Thu, et al., "A Control Study of the Physical and Mental Health of Residents Living Near aLarge-Scale Swine Operation," Journal of Agricultural Safety and Health 3(1): 13-26 (1997).
Wing, S., "Community Health Impacts of Factory Farms," TEDxTalks Manhattan (2013),https://www.youtube.com/watch?v=7ZW8-LQftnY.