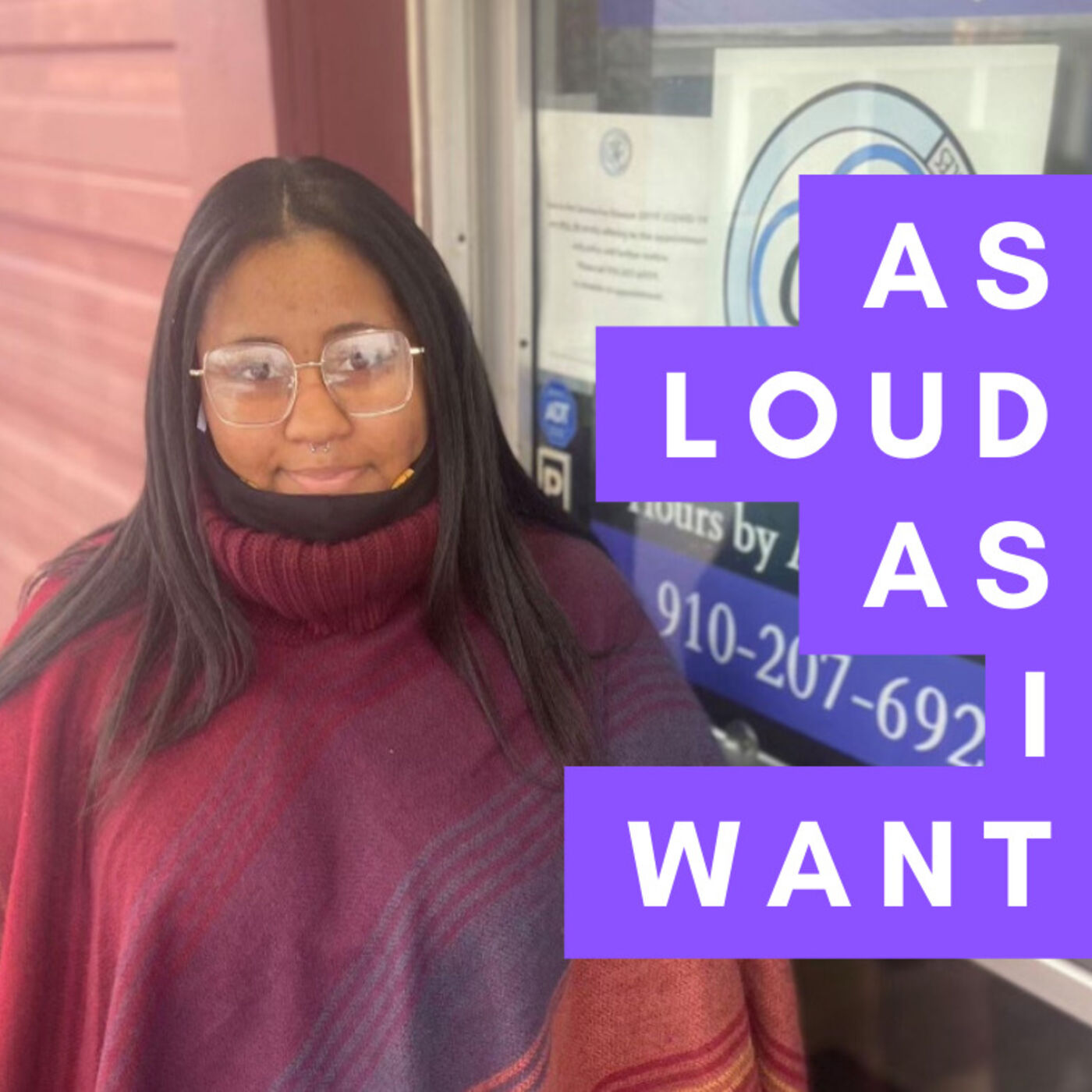 Welcome to As Loud As I Want, a podcast that reflects the experiences of young women in rural Columbus County, North Carolina through the COVID-19 pandemic. We use spoken word and sound to share what we've been feeling, seeing and hearing in our communities. This podcast was created by a series of workshops where we learned about poetry and the arts of sound.  In this episode, Indya Barfield of Whiteville, NC shares her piece, "Quarantine."
This workshop and podcast is funded in part by a grant from South Arts in partnership with the National Endowment for the Arts, with additional support from North Carolina Local News Lab and the Working Narratives Production and Education Fund. Learn more about our work and other audio productions at www.shoresides.org.
Produced by Coastal Youth Media, Community CPR, and Indya Barfield. Hosted by Indya Barfield.
"Quarantine"

Covid changed everything,
our lives will never be the same.
Thinking back to how things
Used to be,
Riding down to Myrtle Beach
Walking to Coastal Grand Mall
Or through Broadway.
How can anyone stay sane?
Wearing masks every day.
The feel of paper against my cheeks,
No smiles from strangers.
It's a different type of pain.
No fun,
No walking the aisles of Wal-Mart
On Columbus Corners Drive.
The sweet smells
From the bakery at the front
As I picked out my favorite
Sugar scrub.
Greeting family members,
Classmates from high school.
No games,
No deep conversations with
Nyasia from Hallsboro,
Trinity from Fayetteville.
My mom says to quarantine,
And I do.
Everyone is beginning to complain.
Out of work,
Out of money.
Checking our bank accounts,
Waiting for the stimulus.
Shortages on toilet paper.
When Whiteville hears
A hurricane is coming,
It's gone:
Bread, water, toilet paper.
This is the same.
Where there's sunshine
There's rain.
Is this a never ending
Pandemic game?
Lost loved ones.
Friends grieve grandmothers.
Broken families.
I try not to focus on it
As I drive to a new job,
Mask on,
Making do with what I have.
Music:
Unsilenced by Ketsa
Reflections on the Water (ft. DYEBRIGHT) by SPEARFISHER via Artlist

Sounds:
Unemployment Claims Rise To Nearly 50 Million Amid Coronavirus Pandemic by NBC News NOW
NC toilet paper maker: 'We can't keep up with demand'. By Fox 46 Charlotte
Supermarket – Store Ambience, Checkout, Scanning Products Beeps by Shirley Spikes
Cityscape and Streets  – Pedestrian Mall, Walla, Footsteps by West Wolf